11:11
20" x 20", acrylic, 1999
This is a disguised portrait of my father, but before we get into that, let's talk about the beautiful Melanie. She is from Québec but she has a scandanavian quality about her. Tall, blond, and blue eyed, she is the perfect example of youth.
In contrast, the clock represents my father. It shows the ravages of time. Ten years ago, my father had quadruple heart bypass surgery. The clock's new taped up plug is his new and improved heart. Two years ago he started losing sight in one eye and just recently underwent radiation therapy for throat cancer. The crack at the top of the clock symbolizes these last two illnesses.
DETAIL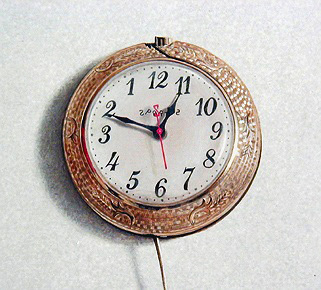 The clock is an odd collector's item. Originally, I intended to use a standard clock but a friend of mine had this one with the numbers interchanged and hands turning counterclockwise. The idea of going back in time is wishful thinking for any aging individual.

The nail over Melanie represents something long since gone: youth. The more I talk about this painting the more I realize it is a sad one. Melanie certainly deserves to be in a more uplifting painting. If you want to know the meaning of "11:11", you will have to ask her.