1966
16" x 20", acrylic, 1989
I got the idea for this painting while squatting in my back yard looking up towards the sky. I felt as if I was looking through the eyes of a child. At that age, everything is larger than life. People are giants, cars are behemoths, buildings are monolithic, and fences rise up to the sky.
On the surface, this painting may give the impression that it has nothing important to say but it stirs up strong feelings inside me. In 1966, I was four years old going on five. Back then, kids spent most of their time outdoors. The youngest of five children, I would spend most of my time in neighboring back yards while my three brothers and sister were off at school.
DETAIL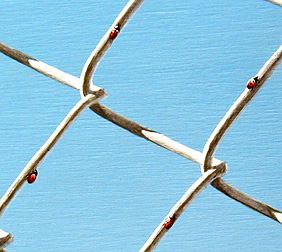 The '60's was an exciting time to grow up. It was the love and peace decade. I started listening to The Beatles, thanks in large part to my older brothers. Notice the four beetles on the fence! When I look at this image with all its nostalgic significance, I feel like I am going back to my childhood.

The blue sky plays an important role in this painting. Its neutrality causes the fence to jump out at you. Its presence counteracts the fence and building positioned at different depths and going into two different directions. The sharp turn that the building takes, away from the fence, is what makes the painting work. It opens up the painting and gives it depth.